Stanley Handcarts Testimonials
Please find below a small selection of what satisfied Stanley Handcarts users have had to say.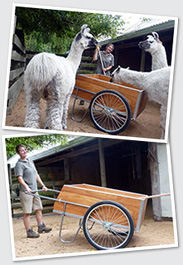 We have proudly been using Stanley Handcarts for over 13 years here at Willowbank Wildlife Reserve. From mucking out, carting hay or simply just shifting supplies around the reserve these handcarts have withstood the rigours of park life.
The easy manoeuvrability of these handcarts means that they are suitable for all of our staff and volunteers to use comfortably whilst being robust enough to withstand the 365 days a year use! As an essential piece of equipment here at the park, we highly recommend Stanley Handcarts.
Shaun Horan
Head Keeper
Willowbank Wildlife Reserve
We are happy to modify any of the models
to suit specific requirements you may have,
please ask
Steve and Sally Saunderson
Stanley Handcarts
PO Box 6038
Christchurch 8442
Telephone: (027) 9377-177
Email: info@stanley-handcarts.co.nz
Website: www.stanley-handcarts.co.nz